Creating better experiences for our guests
Redland City Council is excited to announce that RPAC will be commencing work on a facelift this year following successfully securing $1.37 million in funding from the Australian Government through the Local Roads and Community Infrastructure Program. This program supports local councils to deliver priority local road and community infrastructure projects across Australia. Funding was also received from State and Local Government to scope refurbishment and re-purposing of existing infrastructure in the RPAC Complex. 
Stage 1 Redevelopment
As part of Stage 1 Redevelopment, the cul-de-sac area in Middle Street will be reconfigured to create a drop-off zone with seating in front of RPAC. Upgrades will also be made to the footpath and lighting from this area. These upgrades will improve safety and accessibility for all who visit the centre. Two extra disability car parks will also be added as part of this work.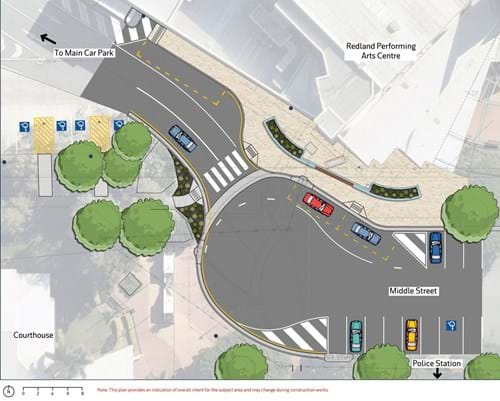 RPAC Stage 1 Redevelopment - schematic of the external works to be completed. Download detailed plan HERE
Improvements to infrastructure will also take place with enhanced café facilities in a permanent 'hole in the wall' location in the RPAC Piazza. This means we can once again offer barista coffee for our guests to enjoy before or after a show. We will also be able to extend the range of items available for sale through the café with its new location, so you can look forward to a new menu coming soon. 
Initial works will commence on 27 March and is expected to be completed by mid-August, subject to weather and site conditions.
We love welcoming our guests to RPAC and these upgrades are not expected to seriously impact any of our scheduled shows. The RPAC car park will remain open throughout this work, with vehicle movements controlled by traffic controllers where necessary.  Safety will remain of paramount importance, so please take note of any communications and signage that will direct you.
For further details of the current upgrades click on the '+' below. 
The works include the following:
creating a permanent drop-off zone in front of RPAC
installing a concrete a seating wall and garden beds with feature lighting adjacent to this area
upgrading the footpath and lighting
upgrading the pedestrian crossing to provide better access linking RPAC and Cleveland Magistrates Court
addition of two extra disability car parks and one extra street parking bay
asphalt road resurfacing
upgrades to the existing stormwater infrastructure.
These works will improve safety and accessibility for all who visit the centre.
Stage 1 Design
As part of Stage 1, local project management and engineering consultancy company xburo has been engaged to progress other exciting upgrades in the Piazza area. Stage 1 Design will include scoping improvements to the Concert Hall entrance, and the addition of a covered outdoor area and permanent seating in the Piazza.

Read more about xburo HERE
Future Plans
This is just the first stage of 'Creating a Better RPAC' and a number of other exciting upgrades are proposed for RPAC, subject to Council prioritisation and funding opportunities. 
These include a revitalised entrance, a covered outdoor area and permanent seating in the Piazza. 
There are also plans in the future to renovate the Auditorium and Events Hall spaces in the RPAC Complex, plus the lawn area into an outdoor seated amphitheatre.
Status |Contract awarded to Archipelago Architects – with concept designs being developed for Stage 2 Redevelopment Building Master Plan Study, scheduled delivery of designs end of October 2023.