Creating better experiences for our visitors.
Redland City Council is excited to announce that RPAC will be commencing work on a facelift this year. Proposed scope of works will include a new outdoor café, seating and all-weather protection, as well as improved drop-off areas for patrons. The $1.4 million upgrade to the RPAC Piazza will create a more open and welcoming entrance to what is a much-loved asset for Redlands Coast residents.
Funding for this work has been provided to the city by the Federal Government under the LRCI grants scheme to help local businesses and families recover from the impacts of COVID-19 and other challenges. These proposed upgrades follow on from the recent Spire maintenance work to replace the cladding around our distinctive spire. Roof guttering upgrades over the Concert Hall are also scheduled in the next few months so that we are ready for the next storm season.
We love welcoming our patrons to RPAC and these upgrades are not meant to make serious impact any of our scheduled shows. Safety will remain of paramount importance, so please take note of any communications and signage that will direct you.
We will be so excited to host you in our new look Piazza.
Spire Works
Status Underway.
Proposed completetion date late July 2022.
During the works the box office will be located in the Events Hall for all bookings and enquiries during day trading.
The box office will be located in the Concert Hall Foyer for performances.
_____
Roof Guttering
Status Scoping stage
Proposed completion date Mid June 2023.
Piazza Upgrade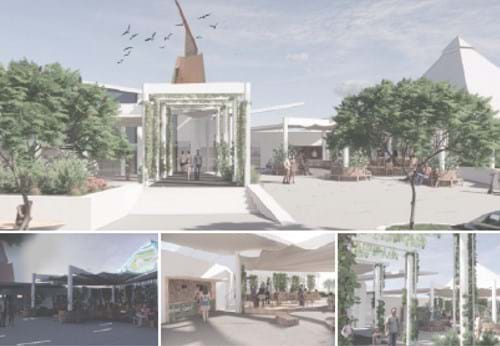 Status | Scoping stage
Proposed completion date | Mid June 2023